WMF signed antique Polish brass Sabbath candlesticks candles grapes Poland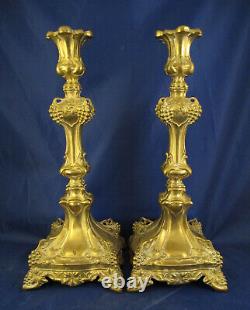 This is an antique pair of solid brass Warsaw Poland Polish Shabbat candle holders. They were made sometime around c1900. They are made of brass, very lightweight, and in. They are about 5 wide across the bases. You can see scans of the Poland hallmarks below.
Each of the candlesticks has these same markings. This pair is made by.
READ MY WRITE-UP BELOW on candlesticks. If you'd like, you can polish these up and they will look great. It's all a matter of taste! Personally, I do not care about such minor things, and so I like to leave my antique metalware as-is. NO holes, NO missing pieces, NO repairs!!!
I encourage you to read my. (How and when you're gonna get it).
Please note that this is not a full-time endeavor for me and I do have other responsibilities. I can only do what is in my control to get your treasure to you as soon as I possibly can. If I know that I'm sending it to you via Priority, then I'll probably indicate that in the listing. (You get the treasure, I get the moolah). Some comments on Antique RUSSIAN/POLISH CANDLESTICKS. I have been exposed to and have had an interest in antique Polish/Russian/European candlesticks my entire life. I know something about them, and would like to share some of that with you. The lightweight Warsaw Poland candlesticks are fragile. If you drop one on its leg, base, or top, it will probably bend - on some with extended legs/feet, it could break off. When holding it in one hand to polish (clean), if you hold it with TOO strong of a grip, it can bend. Oftentimes the Polish candlesticks were silver plated.
Sometimes they were nickel plated and even chrome plated. With the silver plating, oftentimes the plating has worn away and you might see a combination of brass coloring and silver coloring. You don't see the plating wear as much on chrome/nickel plating. This is probably because silver is/was costly and so they didn't apply as much of the metal as they would with chrome/nickel.
This is just another personal preference. The heavyweight Russian/Polish candlesticks are not as fragile, although you wouldn't want to drop one as it may put an indentation in it or worse - it could bend it. Oftentimes, the heavyweight candlesticks have worn threads (where you screw the stick into the base).
What many people do to remedy this is put some string or cloth on top of the thread to make it hold stronger. Since they are so fragile, MANY of the lightweight will have some damage/imperfection - either a twist, a break, a bend, or a repair. I REVEAL ANY/ALL IMPERFECTIONS on my items in my listings. But, it is also possible that a damage or repair is done well, and/or not easily detectable.
I'm sure those sellers that don't reveal this are not doing it intentionally, but rather from lack of experience/understanding and perception. Perhaps they believe these twists/bends/breaks add to the beauty? Also, since these candlesticks are quite ornate, sometimes the repair is difficult to spot. Well, that's up to you.
But as I said, my intention is to reveal that information to you. The heavy candlesticks don't damage as easily. One of the most common telltale sign of an imperfection from a bend/twist/repair is candlestick HEIGHT. Ideally, the lightweight Polish candlesticks should be very very close in height and differ by no more than one-half an inch. That difference could be attributed to slight bends in the legs, which is acceptable (to me). A slight bend in one of the legs can easily make the candlestick a different height, or appear to stand tilted.
Any height difference more than that, you really have to question the condition. So, be very observant of the pictures you're viewing and compare the heights. When I photograph my candlesticks I usually provide several images standing upright so you can see if there is any tilting. Most antique lightweight Polish candlesticks were hallmarked.
Due to age, wear, and dirt, it is not always easy to find the markings. Sometimes they are actually in the bottom of the bobaches where the candles go, and they get worn out easily. I do not have an answer for that.
Perhaps some day someone will enlighten me. In my entire life I have never seen a pair of the heavy Russian/Polish candlesticks with hallmarks/markings on them. Sometimes people have turned their candlesticks into functional electric lamps.
Usually that entails drilling a hole down the center (into the top) and sometimes a hole on the base for a switch. Does it detract from the beauty? That is totally up to you. In my opinion, if the hole was made in the base it takes away from the value, because you cannot undo it even if you wanted to. A hole down the center is not such a big deal. Sometimes a lightweight candlestick is damaged in a center point and what they do is they remove the entire center point from BOTH candlesticks, and then resolder them together. The end result is a candlestick that is missing some of its important original workmanship. I WILL REVEAL THIS TO YOU in the listing if it has occurred. Not something you see very often. My Personal Opinion on Condition. I really adore these candlesticks. I guess if we ever have an electric outage I'll have plenty of places for candles. Personally, I enjoy my antique metalware in its original as-is, dirty condition.
I'd rather my antique metalware have some original aged patina on it than look shiny and new. Oftentimes I don't even attempt to repair or bend something back into shape since it could actually cause more damage then help if it's not done right. My dad was an expert metalsmith, but unfortunately I don't have him around or his tools to do what he used to do. Of course, everything I just said is an INDIVIDUAL preference.
You might like your metalware polished, and that's fine with me. All of these candlesticks can be polished to a bright shine, if you like. You may ask, Why are some candlesticks lightweight while some are heavy, and does it really matter? I can answer that with several comments.
Have you ever heard the riddle/question What weighs more, a ton of feathers or a ton of bricks? Well, the explanation is the same. Brass and bronze have approximately the same "density". Depending upon the true composition (mixture of underlying base metals) a one inch solid cube of brass could weigh more than a one inch solid cube of bronze, OR vice versa!
But, a 14 karat gold HOLLOW bangle bracelet that is ¾" wide and ¼" thick might actually weigh LESS than a 14 karat gold SOLID chain bracelet that is only ¼ thick! You'll actually see these wide discrepancies in gold jewelry, which is why I used that as an example.
Gold is an extremely malleable metal, and therefore it is very easy for jewelry manufacturers to make BIGGER/LARGER pieces of jewelry with LESS material (gold) and therefore provide for a more "impressive" end product. Simply speaking, though, candlesticks that are made of brass are sometimes made HOLLOW, as many of the Polish candlesticks from Warsaw are, and typically might weigh less than 1 pound.
A heavy'typical' (solid) Russian antique candlestick of the same height might expect to weigh 3 to 6 times that. As to which is better, that's really a personal preference.
The Polish lightweight candlesticks are usually much more ornate than the antique Russian solid ones are. Oftentimes the lightweight Polish candlesticks will be enhanced to be heavy so that they don't tip over. This is done (usually many, many years ago) by adding material into the underside of the base. Usually it is some form of clay or ceramic material, and sometimes cement.
In my opinion this does not detract from the beauty or value.