Table Lamp Beautiful Antique Brass With Cloisonne Polished And Lacquered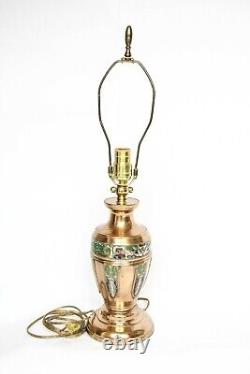 TABLE LAMP BEAUTIFUL ANTIQUE BRASS WITH CLOISONNE. POLISH T ED AND LACQUERED. I have enjoyed this stunning lamp for over 40 years, which I bought in an antique store. It mixes well with traditional or Asian decor. The cloisonne is white, dark blue, green.
High to the top of the finial. The base is 5-1/2 in diameter. Not just lovely to look at, but it has a Leviton dimmer switch socket! Please note: There are "pit" marks throughout that were probably part of the manufacturing process.
It is one of those items that just "screams" out HIGH QUALITY! I had a silk bell-shaped shade on it, but it would look just as lovely with other shapes or fabrics.