Antique Hanging Oil Lamp Hall Library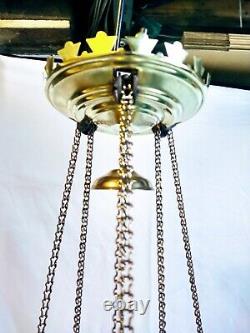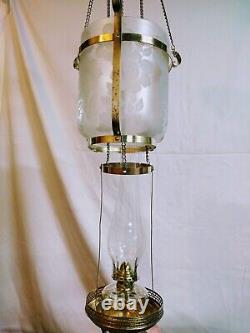 For your consideration is an antique victorian hanging hall oil lamp with an etched floral pattern shade. The majority of this lamp is brass plated except for the canopy and the decorative font holder cover. There is light wear in places on the brass plating and also some rust on the wear spots in areas. The 3 wooden pulley wheels do have some breaks on the sides but the chain does ride on the wheels good still. It comes with the ceiling hook amd a round disc decorative piece.
The clear glass font has a #1 collar with a #1 Scoville Queen Anne burner. The Etched glass shade is a cylinder shape with just a small chip on the top open edge.
Otherwise, it is just small bites on both of the open edges. There is some light wear or discoloration where the metal frame sits against the shade. The outside etched side has a satin finish and the inside is smooth glass. The glass shade is 8 1/4" tall and the large opening is 7" in diameter.
The small bottom opening is 5 in diameter.