Antique English Polished Brass Counter / Desk Bell c. 1890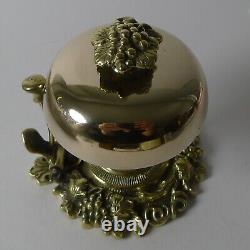 A wonderful and highly decorative desk or counter bell, my favourite kind with the more unusual clapper to the side rather than the ones you ring from the top. The hinged clapper is released and gives a clear and authoritative ring.
A true Victorian example, the bell remains in superb condition, and working perfectly. The beautifully decorative cast base measures 4 1/2" x 3 5/8" and stands 4 1/2 tall to top of finial.