Antique Dutch Rose solid brass chandelier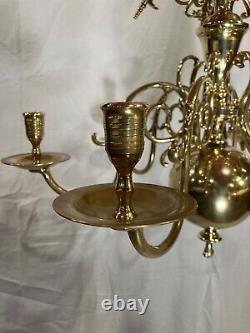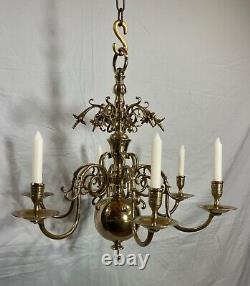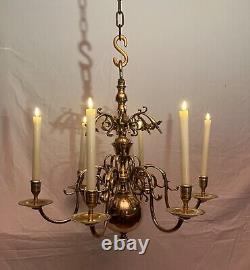 Antique Dutch Rose brass chandelier. The six candle arms and highlighted roses are solid brass.
Total width and height is around 66cm (26). This chandelier has never been wired.
The candle holders are turned brass. The arms are connected to the baluster with brass pins, and are location identified by punched dots. The antique bronze chain is about 168cm (5 1/2').
The new "S" hook is solid brass. Total weight is approximately 11kg (25 lbs). The chandelier came to the USA from Utrecht, Netherlands about 45 years ago as part of an estate settlement. I assume that this chandelier is from the 17th century and, it remarkably similar to Jan Vermeer's painting "Painter in His Studio".
It represents very high quality construction. There is no maker's mark. That is a characteristic of this period.
Recently polished and not restored or repaired. Assumed to be in original condition. The chandelier is not wired.
The arms are solid brass and not the more recent tubular design to hide wiring. Normal candles can be used. Also the newer LED waxed candles can be used and controlled remotely for brightness and on/off functions.